Caregivers
While caregiving is an incredibly rewarding experience, it often presents many challenges. As a caregiver, you're likely to face physical and emotional difficulties along the way. The following tips will help you provide quality care to your loved one, while minimizing your own worry and strain.
Educate yourself
Knowing about your family member's disability or illness will allow you to care for them confidently and efficiently. Sign up for our monthly eNewsletter at MyExcellusMedicare.com/Email for health information and periodic resources for caregivers
Encourage independence
Let your loved one be as independent as possible. Be accepting of technologies that will allow them to do things on their own.
Acknowledge your feelings and embrace support
Caregivers experience many overwhelming emotions like anger, anxiety, guilt, grief, and resentment. It's important to open up about your feelings to a trusted family member, friend, or support group. You are not alone.
Where can you find caregiver support?
Ask your loved one's doctor or health care team for a recommendation.
Check with local hospitals, senior centers, or the Office for the Aging
Visit the websites of national organizations that deal with your loved one's condition. For example, the Alzheimer's Association has listings for both online and local support groups.
Is a support group not for you? There are great online resources available at Eldercare.gov.
Set limits
Don't compromise your personal health, well-being, and relationships for caregiving. Coordinate with doctors, family members, and other parties involved with your loved one. Remember, you can't do it all –and it's okay.
See to your own needs
Exercise can release tension and boost your energy level.
Eat right to promote health and mental clarity.
Get enough sleep and relaxation. It's difficult to overcome stress when you're tired.
Do not use drugs and alcohol to manage sleep and stress.
Take advantage of resources
There are many helpful caregiving services within the community that can support you. If you need assistance, look into adult day care centers, home health aides, home-delivered meals, and transportation services.
Resources:
Office for the Aging
Community Assistance Programs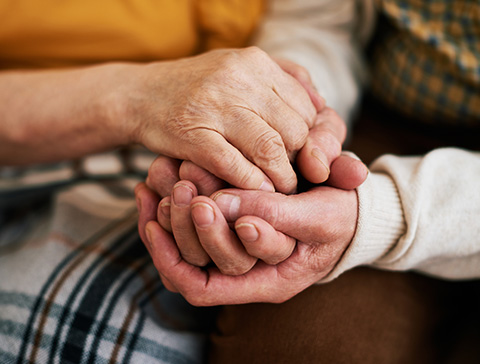 Excellus BlueCross BlueShield is an HMO plan and PPO plan with a Medicare contract. Enrollment in Excellus BlueCross BlueShield depends on contract renewal. Submit a complaint about your Medicare plan at www.Medicare.gov or learn about filing a complaint by contacting the Medicare Ombudsman. Y0028_7465_C.
This page last updated 10-01-2020.