Fill Your Prescriptions with Home Delivery Pharmacies
Members with our Medicare Part D prescription drug coverage can enjoy the convenience of ordering maintenance medications through one of our home delivery pharmacies and having them delivered directly to your home.
To get started, choose one of the two home delivery pharmacies below, work with your current pharmacy to transfer your prescription to the home delivery of your choice or request that your doctor send in a new 90 day prescription electronically.
To refill your home delivery prescriptions, call or sign into your online account of your home delivery pharmacy. Request a refill 14 days before you run out of your maintenance medication. This will ensure your next order is shipped to you in a timely manner.
You should receive your medication within 5-10 business days after the home delivery pharmacy receives your order for a new prescription or a refill. If you do not receive your medication within this time, please contact the home delivery pharmacy.
Home Delivery Pharmacies for Medicare Members: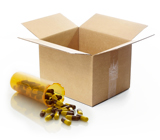 Excellus BCBSUnivera Healthcare's pharmacy network includes limited lower-cost, preferred pharmacies. The lower costs advertised in our plan materials for these pharmacies may not be available at the pharmacy you use. For up-to-date information about our network pharmacies, including whether there are any lower-cost preferred pharmacies in your area, please call 1-877-883-9577 (TTY: 711) or review the Provider/Pharmacy Directories.
Excellus BlueCross BlueShield is an HMO plan and PPO plan with a Medicare contract. Enrollment in Excellus BlueCross BlueShield depends on contract renewal. Submit a complaint about your Medicare plan at www.Medicare.gov or learn about filing a complaint by contacting the Medicare Ombudsman. Y0028_9775_C.
This page last updated 10-01-2023.