Save Money on Prescriptions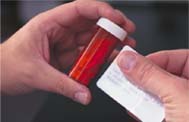 My Medication is Too Expensive
Some people don't take their medicine as directed because the cost of the medicine is too high.
The demand for prescription drugs continues to rise. Prescription drugs account for 10% of all national health care spending and that number is expected to accelerate over the next several years due to a few main factors, including utilization. More prescription drugs are being prescribed than ever before and with all of the generics and lower-cost options available, you may be able to help control some of these costs.
These costs affect everyone - whether or not you're currently taking a prescription drug. Here are some options to help you save money.
Consider a 90 day supply

Ask your doctor for a prescription for a 90 day supply of your medication and choose to fill it at a local pharmacy or through home delivery. For most plans, you pay 1 copayment for a 30 day supply and 2 copayments for a 90 day supply.

Vaccines at the Pharmacy

Our plan covers most adult Part D vaccines

Open a PDF

at no cost to you. This includes shingles, tetanus (preventative) and travel vaccines. For more information, call Customer Care at 1-877-883-9577 (TTY 711), available Monday – Friday from 8 a.m - 8 p.m. ET. From Oct. 1 to Mar. 31, representatives will be available seven days a week from 8 a.m. - 8 p.m. ET.

Try a low cost alternative

There may be a number of less expensive

Open a PDF

, but equally safe and effective drugs, to treat your condition. Ask your doctor or pharmacist about available options and determine if a less expensive drug is worth a try.

Help is Available

You may qualify for State and Federal programs that help you pay for prescriptions. Learn more about how the NYS EPIC Program can work with your Medicare plan to help you save money on your prescriptions. Or contact your Social Security office at 1-800-772-1213, between 7 am to 7 pm, Monday through Friday to determine if you qualify for Medicare's Extra Help program.

Over-the-Counter Drugs

These are medications available without a prescription. Antihistamines, pain relievers and heartburn medications can often be purchased over the counter for less than your prescription co-payment.

Free Medication Review

With your Medicare plan, you are eligible to have all of your medications reviewed personally with a pharmacist at no charge. During this complete review, our pharmacists can answer any questions you might have and may possibly be able to help you find ways to save money on your future prescriptions. Medication reviews are conveniently performed over the telephone. Contact our health plan's pharmacist today at 1-800-559-8426 for your free review.

Fewer Tablets Per Day

Ask your health care provider if a higher dose of one tablet would work in place of taking two lower-dose tablets, which could save you up to 50 percent of the prescription cost.
Excellus BlueCross BlueShield is an HMO plan and PPO plan with a Medicare contract. Enrollment in Excellus BlueCross BlueShield depends on contract renewal. Submit a complaint about your Medicare plan at www.Medicare.gov or learn about filing a complaint by contacting the Medicare Ombudsman. Y0028_9775_C.
This page last updated 10-01-2023.