Not all Blue Distinction centers are covered by Medicare
If you are a Medicare member you must receive services at a Medicare certified facility. For more information on Medicare certified facilities, please contact our Customer Service Department at 1-877-883-9577 (TTY 711), 8 a.m. - 8 p.m. Monday - Friday. From October 1 - March 31, representatives are also available weekends from 8 a.m. - 8 p.m.
Follow this link to View a List of Medicare Certified Facilities.
A simpler, smarter way to find quality specialty care.
Find a Blue Distinction Center
Searching for a top-rated health care provider for a special medical procedure or surgery, or for your general health and wellness care can sometimes be a challenge as not all facilities are the same.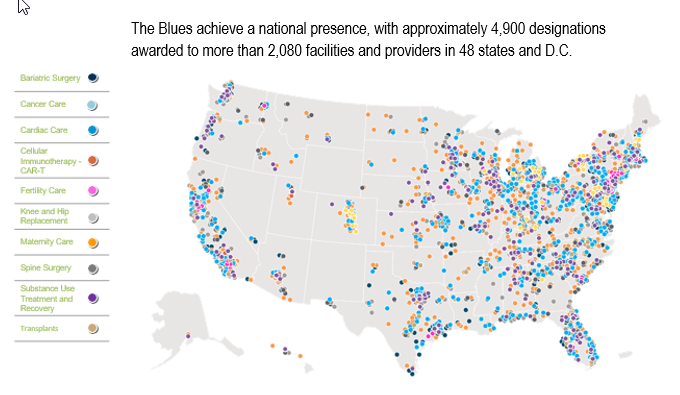 One facility may excel in certain specialties and not in others, so that a facility that has a solid overall reputation is not always necessarily the right choice for a specific procedure. The hospital you select can have a direct impact on the care you receive and your procedure results.
The overall goal of Blue Distinction programs is to help consumers find both quality and value for their specialty care needs, on a consistent basis, while encouraging healthcare professionals to improve the overall quality and delivery of care nationwide.

Blue Distinction programs are designed to recognize doctors, hospitals and health care facilities for their outstanding quality of care, service, and patient safety when it comes to certain specialties. So, consider a facility designated as a Blue Distinction Center for Specialty Care.

The program includes two levels of designation:
Blue Distinction Center (BDC): Healthcare providers recognized for their expertise in delivering specialty care.
Blue Distinction Center+ (BDC+): Healthcare providers recognized for their expertise and cost-efficiency in delivering specialty care.
Blue Distinction Specialty Care designations are currently available for 11 high-impact areas of care, including:

Bariatric Surgery
Cancer Care
Cardiac Care
Cellular Immunotherapy- CAR-T
Fertility Care
Gene Therapy- Ocular Disorders
Knee and Hip Replacement
Maternity Care
Spine Surgery
Substance Use Treatment and Recovery
Transplants
For more information...
---
Blue Distinction Centers (BDC) met overall quality measures, developed with input from the medical community. A Local Blue Plan may require additional criteria for providers located in its own service area; for details, contact your Local Blue Plan. Blue Distinction Centers+ (BDC+) also met cost measures that address consumers' need for affordable healthcare. Each provider's cost of care is evaluated using data from its Local Blue Plan. Providers in CA, ID, NY, PA, and WA may lie in two Local Blue Plans' areas, resulting in two evaluations for cost of care; and their own Local Blue Plans decide whether one or both cost of care evaluation(s) must meet BDC+ national criteria. National criteria for BDC and BDC+ are displayed on www.bcbs.com. Individual outcomes may vary. For details on a provider's in-network status or your own policy's coverage, contact your Local Blue Plan and ask your provider before making an appointment. Neither Blue Cross and Blue Shield Association nor any Blue Plans are responsible for non-covered charges or other losses or damages resulting from Blue Distinction or other provider finder information or care received from Blue Distinction or other providers. To find out more, contact your Local Blue Plan.
Excellus BlueCross BlueShield is an HMO plan and PPO plan with a Medicare contract. Enrollment in Excellus BlueCross BlueShield depends on contract renewal. Submit a complaint about your Medicare plan at www.Medicare.gov or learn about filing a complaint by contacting the Medicare Ombudsman. Y0028_8830_C.
This page last updated 10-01-2022.