Page Title, Social Icons for page template
EXC-MBR-MDM-INP-Blue Distinction Centers intro
Not all Blue Distinction centers are covered by Medicare
If you are a Medicare member you must receive services at a Medicare certified facility. For more information on Medicare certified facilities, please contact our Customer Service Department at 1-877-883-9577 (TTY/TDD 1-800-662-1220), 8:00 a.m. - 8:00 p.m. Monday - Friday. From October 1 - March 31, representatives are also available weekends from 8:00 a.m. - 8:00 p.m.
Follow this link to View a List of Medicare Certified Facilities.
EXC-MBR-MDM-INP-Blue Distinction Centers - content w side image
A simpler, smarter way to find quality specialty care.
Not all hospitals are the same. One facility may excel in certain specialties and not in others, so a hospital that has a solid overall reputation is not necessarily the right choice for a specific procedure.
So, consider a facility designated as a Blue Distinction Center®. The Blue Distinction designation is awarded to hospitals based on a thorough, objective evaluation of their performance in the areas that matter most to you - quality care, treatment expertise, and overall patient outcomes, just to name a few. The criteria we measure are established with the help of expert physicians and medical organizations.
The program currently recognizes facilities as Blue Distinction Centers for Specialty Care® in the areas of:
Bariatric surgery
Cardiac care
Complex and rare cancers
Knee and Hip Replacement
Spine Surgery
Transplants
Find a center: Visit the Blue Distinction Center Finder
Get the facts: Check out the Blue Distinction Fact SheetOpen a PDF
See the details: Read about the Selection Criteria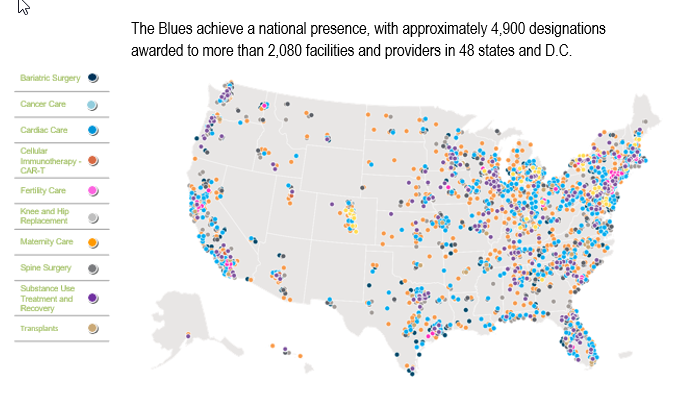 EXC-CMS Footer
Excellus BlueCross BlueShield contracts with the Federal Government and is an HMO plan and PPO plan with a Medicare contract. Enrollment in Excellus BlueCross BlueShield depends on contract renewal. Submit a complaint about your Medicare plan at www.Medicare.gov or learn about filing a complaint by contacting the Medicare Ombudsman. Y0028_5994_C.
This page last updated 10-01-2019.